Principal Academy
The fifth Principal Academy will be held June 25-29, 2018 at the Gateway Technology Center on NC Wesleyan College's campus in Rocky Mount. We are currently recruiting principals from the 13 NELA counties who are well-versed in technology. Superintendent recommendations are required.
To see curriculum and information about the Principal Academy, view the
Principal Academy website.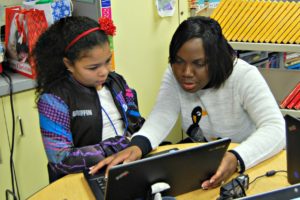 The fourth Principal Academy was held June 26-30, 2017.
The third Principal Academy was June 27 – July 1, 2016 at NC Wesleyan College in Rocky Mount, NC. Sixteen principals attended.
The second Principal Academy was June 22-26, 2015 at NC Wesleyan College in Rocky Mount, NC. Seventeen principals attended.
The first Principal Academy was June 23-27, 2014 at NC Wesleyan College in Rocky Mount, NC. Twenty-two current principals attended.
NELA 2.0 must develop and provide a high-quality continuing professional development and individual executive coaching program to help principals who serve in rural, geographically isolated, high-need schools become instructional leaders for digital learning environments, which are aligned to career and college ready standards. Further, the principals will master the essential leadership skill of providing targeted, corrective feedback to teachers that enables them to improve their teaching practice. Preference for participation will be given to recently appointed principals and assistant principals in schools under NCLB mandated sanctions.
Below is a sample of the type of learning that will occur during the Principal Academy.