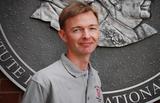 Matt Bristow-Smith graduated with NELA Cohort III in 2014. Before becoming a NELA Fellow, he served as an English Teacher and School Improvement Team Chair at Tarboro High School. He completed his NELA administrative internship at SouthWest Edgecombe High School. Matt has been serving as Principal at Edgecombe Early College High School since 2014.
Matt was recently honored as a Wells Fargo Regional Principal of the Year for the North Central Region of the state. Matt Bristow-Smith is one of eight regional winners. A North Carolina state-wide Principal of the Year will be chosen out of these eight regional winners on May 10.
To view the NC Public Schools Press Release, which lists all eight regional winners, please visit this link.
To learn more about the Wells Fargo North Carolina Principal of the Year award, visit this link.
Congratulations to Principal Bristow-Smith!