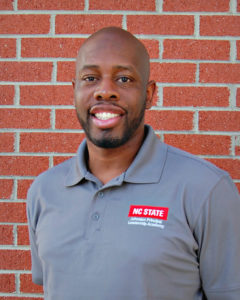 Leshaun Jenkins is a current Fellow in NC State's Johnston Principal Leadership Academy (JPLA). Leshaun spent 16 years as a teacher at Tarboro High School, where he taught World History, World Geography, Civis and Economics, US History, and Global Studies. He has been recognized as Teacher of the Year four times. Leshaun is currently serving as Interim Assistant Principal at Phillips Middle School while he is also a student in JPLA.
Leshaun will be serving on a panel, as a representative of NC State's Black Graduate Student Association (BGSA). The panel discussion will occur after a screening of the documentary, Talking Black in America. This film was produced by NC State's Language and Life Project and documents African American Language and its role in culture. Other members of the panel include executive producer Dr. Walk Wolfram and NCSU psychology professor, Dr. Rupert Nacoste.
The screening and panel discussion will be held on February 26, from 6:00pm to 8:00pm, in the Ocracoke Ballroom at Talley Student Union, 2610 Cates Avenue Raleigh, NC 27606.
For more information about the event, view the flyer below, or the calendar posting linked here.