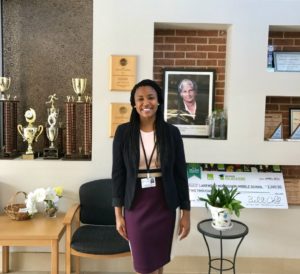 Students, parents, and school leaders across Durham Public Schools (DPS) were filled with excitement to kick off the new school year. This year, 14 Durham Principal Leadership Academy (DPLA) Fellows are serving as Principal Residents throughout DPS. The DPLA Fellows are in their second year of coursework at North Carolina State University. They will graduate with a Master in School Administration degree in May 2018. They will spend the year learning under expert principals while acting in a co-principal role and continuing to develop leadership skills.  The Principal Residency prepares Fellows to be servant leaders in education upon graduation. The Fellows are eager to learn, lead, and serve their school communities.
As schools throughout the country were metaphorically rolling out the red carpet for the first week of school, a DPS, Carrington Middle School literally rolled out a red carpet for students.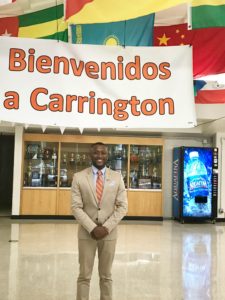 Marcus Saunders, a DPLA Fellow, will serve at Carrington this year under the leadership of Holly Emanuel. Ms. Emanuel continues to work hard to make sure every student gets the best education possible and is modeling how to be a champion for children. This year, Marcus has the opportunity to learn great leadership lessons from Ms. Emmauel. He said, "The first week has been awesome!" He continued by stating that the students at Carrington "are excited about the school year, and loved entering the school building on a red carpet for the first day of school. I am expecting great things here in cougar country!" The video coverage for Carrington Middle Schools first day of school can be found here.
This year promises to be full of great accomplishments and exciting progress for each of the Fellows and their students. To read more about our DPLA Fellows, visit the DPLA Fellows page. 
To learn more about the Principal Residency portion of the DPLA program, visit go.ncsu.edu/dplaresidency.